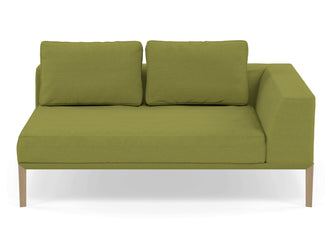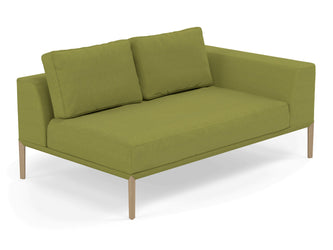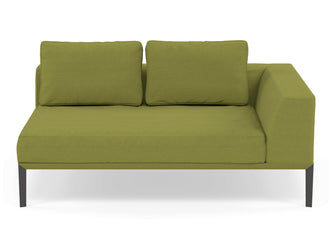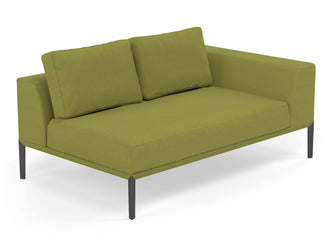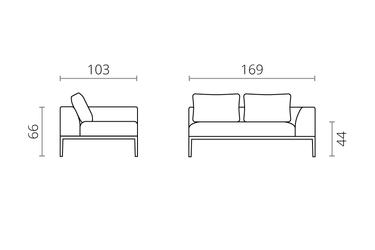 Modern 2 Seater Chaise Lounge Style Sofa with Left Armrest in Lime Green Fabric
Regular price
£3,499.99 GBP
Regular price
Sale price
£3,499.99 GBP
Unit price
per
Sale
Sold out
The modular system of soft sofas that stuns with its exquisitely refined proportions for a sophisticated appearance and advanced comfort seating
With its physically tangible weight, large dimensions and strongly contoured shapes, the sofas appear incredibly light, elevated high on long slender legs. The technologically advanced load-bearing frame provides incredible span and stability, yet ingeniously subtle cross-sections offer slenderness so this sleek statement piece of furniture appears to be levitating above the floor. 
Optimally design for space and lightness, the seat and backrest elements are exceptionally soft and comfortable. Meticulous attention to detail and superior finish quality is visibly obvious, no more so than on the joint between the legs and the upholstered frame perfectly conjoining both components and materials.
Please contact us for any adjustments to leg finishing (natural wood or painted according to the available colours, coated or chrome-plated steel) and fabric to make your own statement, be it natural, rustic, vigorous, monochromatic, opulent… or if you would like to order fabric samples.
Delivery: 8-10 weeks
Colour: Lime Green (Medley 68002)
Size: Length 169cm x Depth 103 cm x Height 66cm / Seat Height 44cm